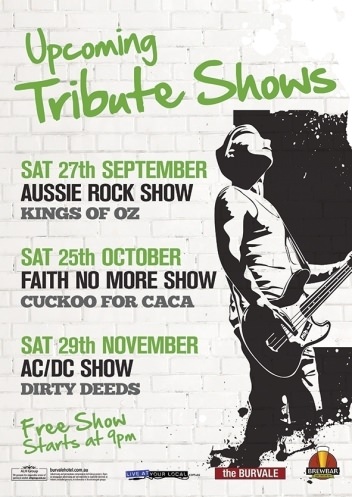 Upcoming Tribute Shows
Free shows, start 9pm.
Free tribute shows in the Brew Bar, starting from 9pm on the fourth Saturday of every month.
Upcoming shows:
Sat Sep 27th - Kings of Oz
Sat Oct 25th - Cuckoo for Caca (Faith no More)
Sat Nov 29th - Dirty Deeds (AC/DC Show)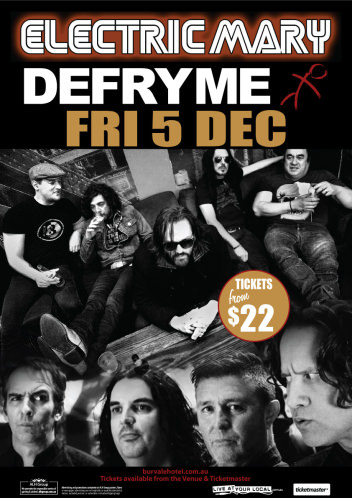 Electric Mary & Defryme
Buy Tickets At Ticketmaster
Don't miss this double bill... ELECTRIC MARY & DEFRYME
With Local Supports
It had been two years since the Mary's last gig when they received the phone call from States. Rusty had just finished a week in the studio with the legendary engineer Mike Tholen and now it was time for the band to pick up their instruments and do another Electric Mary recording.
They weren't looking for an album, they just wanted to get back in the studio and smash out some tunes... and smash them out they did. With drummer Davey Porter at the helm it was all about a new swagger for the band and they responded accordingly.
2014 is a year of celebration for Electirc Mary. After an incredible ten years that has been highlighted by tours alongside the likes of Alice Cooper, Whitesnake, Judas Priest and Deep Purple, a collection albums and EP's and an ARIA Top 100 single, Electric Mary are back with a new EP in The Last Great Hope – and they intend to spend the year celebrating all that is rock n roll.
This is rock n roll the way it used to taste!
DEFRYME was formed in 1989 in Frankston by Michael Richardson and Quinn Gardener-Kane, and was originally a musical cross between N.W.A. and Living Colour.
In 1994 the band's first album, Purekiller, debuted at #3 on the national ARIA chart. Soon followed a string of ARIA Top 100 singles including a cover of LL Cool J's Mama Said Knock You Out and Defryme originals God Inside A Man, Purekiller and the crossover track Sanity, all receiving significant radio support from both triple j and commercial radio stations such as Triple M.
Later, Defryme were invited to go on tour with Radiohead and play at the South X Southwest music conference in Austin Texas – gaining widespread notoriety for their total commitment and energy as a live act.
Defryme are now back with a fresh perspective and a new bunch of songs mixed in with their favourite legacy hits. The new single Audrey is available via iTunes on August 11.
From $22
Tickets available at venue
Booking fee may apply
18+ Only - Photo ID required
Doors Open from 7.30pm
Wednesday 4th February 2015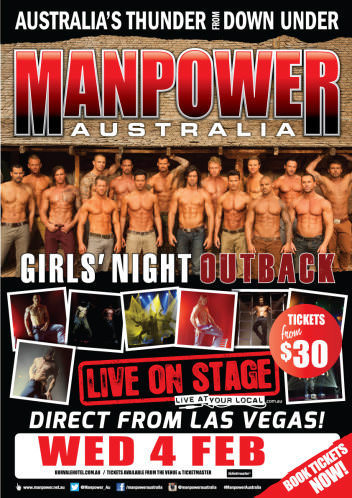 Manpower
Buy Tickets At Ticketmaster
Over the past years Manpower have been performing shows in front of adoring fans in many different countries and now Australia's number 1 Male Revue are coming home!!
With dynamic dancing & state of the art lighting, this fully choreographed 2-hour stage spectacular has been wooing women all over the world since 1989. Now regarded as one of Australia's most successful entertainment exports, Manpower Australia now has 3 troupes of entertainers touring simultaneously worldwide.
This entertainment experience boasts a truly unique Aussie style that audiences around the world just can't get enough of. So don't miss the opportunity to see our home grown Aussie boys, as they take the stage in what is said to be Australia's premier ladies night out!
From $30
Tickets available at venue
Booking fee may apply
18+ Only - Photo ID required
Doors Open from 7.30pm